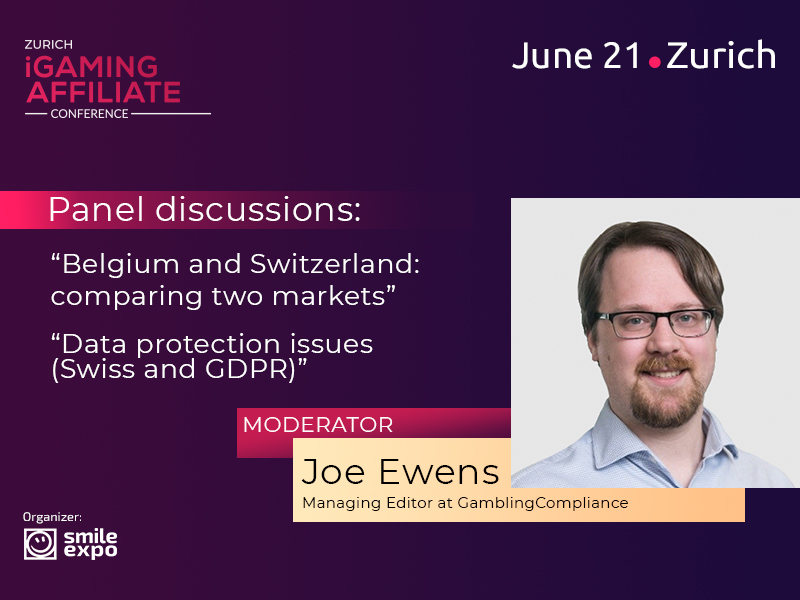 Swiss Independent Regulator Representative Joe Ewens to Become a Panel Discussion Moderator at Zurich iGaming Affiliate Conference
Legislative changes to the rules of gambling operations happen quite often, especially in such gambling oriented countries as Switzerland. How to keep track of them?
The most reliable way to obtain correct and verified information is getting consultations with state institutions regulating the industry in Switzerland. On June 21, Zurich iGaming Affiliate Conference will provide a possibility to ask questions to public representatives in person!
Joe Ewens, managing editor at Gambling Compliance independent regulator will participate in Zurich iGaming Affiliate Conference.
Gambling Compliance is the leading provider of independent legal, regulatory and business analytics in the iGaming sector. Company offers independent analysis for gambling industry specialists, helping them understand what changes in regulation open new possibilities for their businesses. Large Gambling Compliance team consists of journalists, lawyers and researchers analyzing legal and regulatory developments in more than 180 jurisdictions across the globe.
Joe Ewens has been working at Gambling Compliance since 2017. Expert has an extensive expertise in journalistic and editorial segments. Previously, has been an editor at Coinslot International, reporter at Pokerati.com, freelance creative writer at Fantasy Flight Games, and many other companies.
Joe will become a moderator of two discussion panels: "Belgium and Switzerland: comparing two markets", as well as "Data protection issues (Swiss and GDPR)". Together with top international lawyers and experts, Joe Ewens will discuss the aspects of gambling business operation in Switzerland. In addition, the speaker will participate in the panel discussion: "Responsible gambling as the future of the industry" that will feature useful advice on how casino operators protect their players from the possible negative consequences of gambling.
---
Meet state representatives and other experts – register to the event!