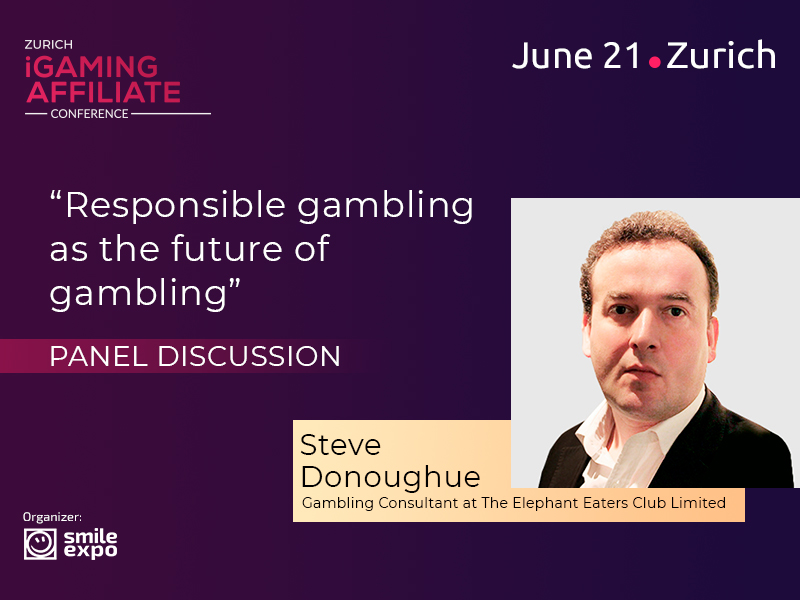 Responsible Gambling: Gambling Consultant Steve Donoughue Will Share His Opinion During the Panel Discussion
Today, online casinos and various gambling platforms try to make the gaming experience safer for players and protect users from possible negative consequences.
Measures to make gambling safe will be discussed on June 21 at the Zurich iGaming Affiliate Conference. Gambling Consultant Steve Donoughue will take part in the panel discussion on the topic "Responsible gambling as the future of gambling."
Steve Donoughue is the consultant in online and offline gambling industry with twenty years of working experience.
He specialises in management consulting, corporate finance, product development, as well as in general management and strategic development.
The speaker has advised numerous clients in the areas of new media & gambling and general management consultancy. Moreover, he was responsible for all gambling related projects handled by KPMG in the UK.
Apart from that, Steve has also provided consultations to the government of the Turks & Caicos Islands as well as the Dutch Finance Ministry on Holland Casino.
The speaker also has the experience of being a managing consultant at PKF (UK) LLP, firm offering auditing and accounting services. Steve's responsibility was to develop a gambling practice in the private sector part of the management consultancy arm.
Today, the specialist is the Secretariat of the UK All Party Parliamentary Betting & Gaming Group, and a Special Advisor to the UK Parliament's Culture, Media & Sport Select Committee inquiry into gambling.
---
Learn more about the responsible gambling from the expert at the conference!