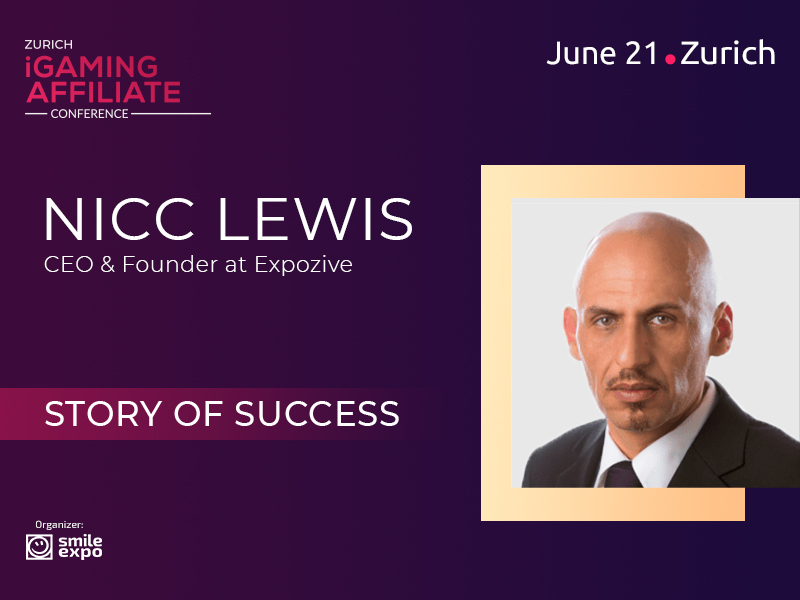 Nicc Lewis, Expozive CEO: Fashion Industry Developed My Marketing Talent
Nicc Lewis was engaged in the fashion industry in South Africa. Moving to Israel, he shifted to the iGaming sector. Within his career, the expert has managed to work as a marketing specialist for various companies. As of today, he is Founder and CEO at Expozive.
We talked to Nicc Lewis about the beginnng of his career, operations at different companies, views on the marketing sector, and crucial aspects of business growth.
"I Apply Tricks from Fashion Industry in Online Marketing"
My first job is The Body Shop. I acquired lots of useful knowledge in the fashion industry. I learned retail and design secrets. Working in retail trade, I communicated with customers face-to-face. You do not get this online. Speaking to people is an invaluable experience to me: I could hear and see their reactions in person.
I discovered many tricks in the fashion sector that helped me in my professional career. For example, only odd numbers should be placed in a shop window. I use the same principle in design. In retail sales, you should not ask a person if they want to purchase something. You should ask what exactly they would like to buy. That's how you eliminate the "no" option. I apply this approach in online marketing.
"I Was Sure I Know How Marketing Should Work"
Moving to Israel from South Africa, I did not have a certain plan. I was sure I know how marketing should work. Besides, I spoke in English, liked creativity and accountancy.
Looking for a job, I met the head of Spiral Solutions. He asked me how fashion experience could be useful in conducting marketing campaigns for interactive gambling venues. I said that the gambling industry was not quite difficult. In the fashion world, you should perform the successful disposal of goods every season. By the way, it is much easier to sell products with fixed price during 12 months. As the result, I was hired. Initially, I managed a single casino brand, and later all of the company's brands.
"I Carried Out Various Tasks at Spiral Solutions"
At Spiral Solutions, my obligations included client marketing for online and offline operators. The company designed a mobile casino for Microgaming. I led the Account Management team that managed its clients.
Moreover, I developed programs for companies, grew business, sold company's solutions, and controlled product compliance with the specified requirements. I frequently met with regulators throughout Europe.
"I Managed to Work at Different Companies"
I gained experience at Leverate. When I was hired by this company, I was confident of how marketing should be executed. I realized how to work with products using my experience in gaming, market examination, and talking to consumers. I was responsible for brand positioning as a leader in the niche.
Therefore, I have managed to prove myself at numerous companies within my career. I have accumulated a required experience over this period. Furthermore, I had confidence in my abilities and skills. Thus, I decided to establish my own company – Expozive.
"I Have Close Relationship with My Clients and Influencers"
I keep in equally good contact with both consumers and influencers from different areas. My business is primarily built on the referrals from other people.
A solid base is also a significant aspect in driving success. You should understand data and business numbers as well as determine trends and key efficiency characteristics. It is important to ask the proper questions. The creativity is layered on this base.
At Expozive, I have cooperated with both large companies and startups.
"Focusing On a Certain Niche, Being Honest, and Shifting to Gen Z Are Important"
I believe that brand establishment, brand authority, and brand awareness are quite significant issues. They encourage the business growth.
High-quality iGaming content marketing allows to introduce your brand to users so that they purchase services more promptly. It does not matter from where new clients come, as it leads to the conversion boost. Good content will also give better search rankings. Consequently, it results in higher conversions and increase in marketing budget.
You should build your brand identity and define its value among consumers. Users do not search for the cheapest items. They desire to find products at the best value on the platform they can trust.
Another critical aspect is to focus on a certain niche. The best option is to determine a narrow area and prefer the industry where you can compete, earn a great reputation, and offer unique solutions to customers. Growth comes from moving from one niche into the next logical or complementary niche.
Meanwhile, you should be open and human. If the company carries on transparent operations, it will be able to establish relations with clients easier. This fact also helps to cooperate with Google, Facebook, and Twitter.
In addition, you should take into account users born in 1996 and after, the Millennials. Their behavior patterns are different to previous generations. We are already seeing the rise of influencer marketing and video content. We are observing the necessity to combine content of various length. Content that has value can be much longer than you expect.
---
Nicc Lewis will participate in Zurich iGaming Affiliate Conference to be held on June 21. The expert will share his view as part of the panel discussions dedicated to the responsible gambling approach as well as the development and support of attractive online offers.