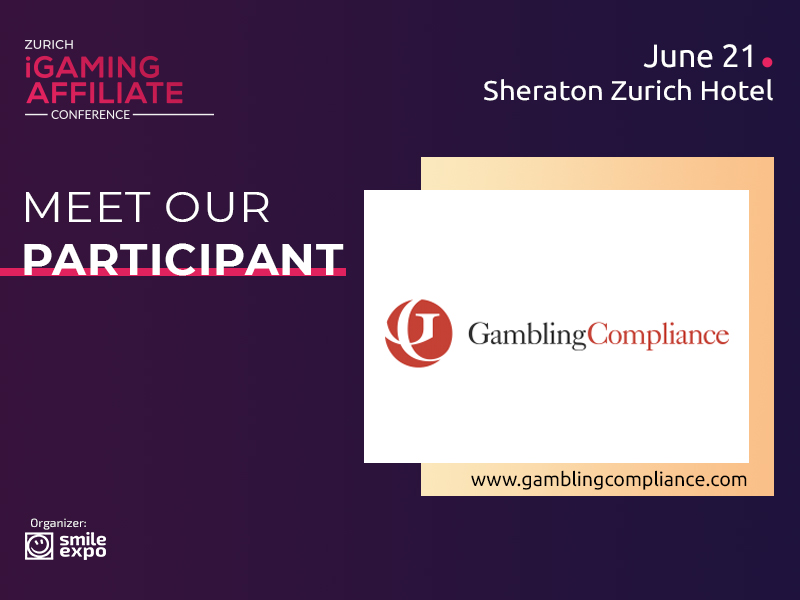 Meet Participant of Zurich iGaming Affiliate Conference: Switzerland's Independent Regulatory Body – Gambling Compliance!
New gambling regulatory rules allow Swiss land-based casino operators to expand their online gaming activity. But what about foreign representatives desiring to work and invest in the profitable and promising market? What do the introductions imply? What subtle aspects do they hide?
No one can better answer these questions than the representatives of public authorities. You will be able to talk to them personally on June 21 at Zurich iGaming Affiliate Conference!
We would like to announce an honored conference participant: Gambling Compliance.
Gambling Compliance is a leading provider of legal, statutory, and business analytics in the global iGaming sector. The company provides gambling specialists with an independent analysis, allowing them to realize what legal changes open new business opportunities. Compliance consists of the large team of journalists, lawyers, and researchers who analyze legal and statutory changes applying to more than 180 global jurisdictions.
Joe Ewens, a managing editor at Gambling Compliance, will represent the organization at Zurich iGaming Affiliate Conference.
Joe will moderate two panel discussions: Belgium and Switzerland: comparing two markets, and Data protection issues (Swiss and GDPR). Together with leading international lawyers and industry experts, Joe Ewens will discuss aspects of gambling operations in Switzerland.
Beside Gambling Compliance, the conference will be attended by casino managers, SEO specialists, arbitrage experts, webmasters, lawyers, digital agencies from the USA, South Caucasus, Italy, Germany, Sweden, the UK, Malta, and other European countries.
Zurich iGaming Affiliate Conference is a space for establishing the cooperation between online and land-based venues. You will be able to find both potential business partners and investors who are ready to assist in the implementation of promising projects.
---
If you are interested in the development of Swiss gambling market, do not miss a chance to get acquainted with its representatives and conclude beneficial agreements at Zurich iGaming Affiliate Conference!