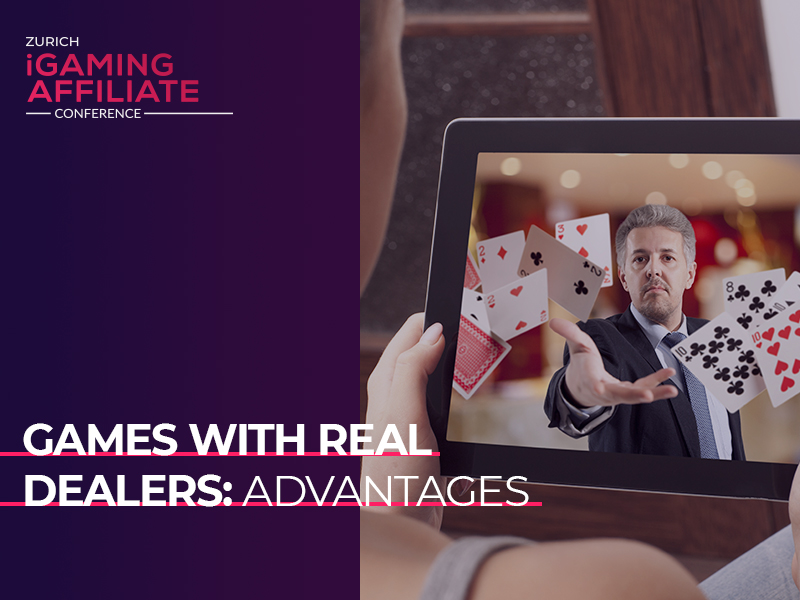 Live Casino Games: Subtypes, Differences, and Advantages
Online casino players are sated with AI-based games: they want to interact with human beings. To satisfy gamblers' demand for real-life communication, casinos offer live games with actual dealers.
The article reveals the concept of live casinos and their types.
Live Casino Definition
The point of live casinos is that players interact with dealers working in special private rooms. Their actions are broadcasted on the screen of the user's device from numerous cameras, while special sensors installed in the roulette wheel and game tables allow to obtain information about numbers, cards, etc.
Receiving data from these sensors, casino software determines the amount of winning in accordance with the game rules and the current gaming situation.
Differences Between Live Casinos and Common Online Casinos
Online casinos with real dealers are something between an online game and a session in the VIP hall of the actual casino. This format has the following advantages:
such a casino looks quite realistic, as platform owners try to recreate the atmosphere of an original gambling room with corresponding background, sounds, game tables, etc.;

this kind of casinos does not apply a random number generator, making the game independent from human-made algorithms;

players communicate with nice live dealers, which predisposes and relaxes them;

live casinos have reintroduced games losing ground because of online casinos. For example, baccarat has become popular in the live format.
Certainly, there are some aspects reducing the target audience of live casinos. One of them is the necessity for the Internet speed of at least 256 KB/sec. Otherwise, the game will freeze up.
Advantages of Live Roulette and Real Dealer Casinos
One of the core advantages of live casinos is the guarantee of fair and honest game holding. It's no secret that many gambling fans refuse to register in online casinos, considering the random number generation system as a fraud against players. Live casinos exclude scam, because all the data are read from sensors in real time mode.
By the way, all players can easily inspect the game for fraud, for instance, by asking a dealer to wave his/her hand on camera.
Subtypes of Live Games: Roulette, Poker, Blackjack, Baccarat
There are various subtypes of live games, but the most sought-after are roulette, poker, blackjack, and baccarat. Given below are details about each one.
Roulette
A live roulette is pretty similar to the same process in a land-based casino: the game is much slower with a human interference than in online casinos. A lot of players appreciate this atmosphere. Spectacular throw of the ball, its distinctive knock on the wheel, possibility to monitor breathlessly its movements and stop within the sector: all these manipulations give the same emotions in live casinos as the visit to a land-based gambling room.
Online poker
Virtual casinos have various online versions of this game: Casino Holdem, Caribbean Stud, three card poker. A live dealer explains the rules, keeps a dialogue with players, and handles cards. A deck of cards is shuffled by the special machine.
Blackjack
Cards are shuffled by a real dealer like in a conventional venue. This may seem as an advantage for players who can calculate cards. In this game, a platform developer is charge of eliminating the possibility for visitors to cheat the system. Used cards are not transferred to the shoe: dealers cut them and discard the half blindly. It does not allow to calculate the cards.
Baccarat
In this card game, players aim to collect as many scores as possible using two or three cards. Earlier, baccarat was considered to be an aristocratic game. It features high rates now as well. Baccarat has been reanimated due to live versions, as its key advantage is the communication with neighbors and dealers, which has been previously absent in online casinos.
---
Discover more about land-based and online casino formats at Zurich iGaming Affiliate Conference to be held on June 21.