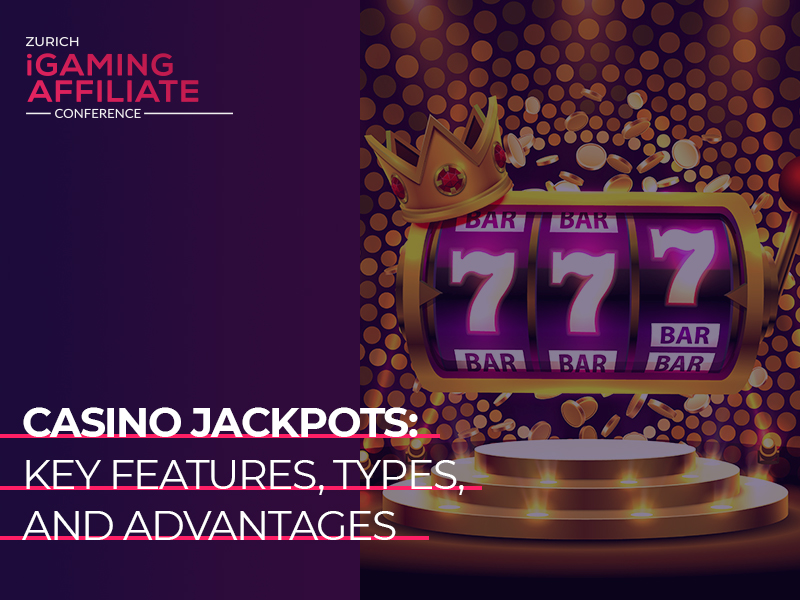 Large Casino Winning: How to Attract Players Using Jackpots
Sometimes hitting the jackpot means not only improving your financial situation, but also becoming actually rich. Therefore, many people join land-based or virtual gambling venues in order to obtain that very desired sums. Gambling organizers benefit from this and hold major drawings to attract consumers to their platforms. The article reveals the concept of jackpots and their types.
Jackpot: What Is It, and What Is Its Purpose?
The term 'jackpot' came to the gambling industry from the poker world. One of the varieties of this game has such a card hand as a pair of jacks. When a player gets it, the prize pool (pot) is drawn. Combining words 'jack' and 'pot', we can see a well-known notion to each gambler.
There is the second version: the world's origin is related to Herbert Mills who has significantly contributed to the development of slot machines (the idea of expanding a slot display belongs to him). Allegedly, he invented this term when a common worker named John won the big sum of money in the gambling venue.
Currently, the jackpot means the largest winning. It is drawn in lotteries, slot machines, card or other games. Such a money prize can amount to millions and billions of dollars. For example, the Mega Millions lottery drew a prize fund of $1.6 billion in 2018. A citizen of Zurich, Switzerland, won €135.3 million in the Euro Millions lottery in 2017.
Gambling platforms use jackpots as a tool for attracting and retaining clients, promoting and advertising casinos, as well as enhancing their status.
Core Types of Jackpots
Jackpots are drawn in both land-based and virtual gambling clubs. The sum of maximum prize pool can be permanent or constantly changed. Gambling organizers can specify a certain winning size or hide it from the audience, whetting its appetite, at their own wish.
The standard classification distinguishes the following types of jackpots:
Fixed jackpot. The prize fund is unchanged. Organizers publicly announce the available sum.

Progressive jackpot. It is an accumulative kind of jackpots. A definite percent is allotted from each new bet. The more money people place, the bigger winning they can receive in the long term. Deductions and maximum jackpots are not limited in land-based casinos.

Mystery jackpot. The accurate amount of prize fund is not disclosed. Besides, there is a minimum and maximum number. This type is a common phenomenon in land-based casinos.

Double Trigger. Gamblers can earn an additional sum in the bonus game. The maximum winning amount is not announced.

Door Prize. The reward for luckiness. It can be given to a customer who has authorized under a certain number or a gambler who has become the thousandth player in the slot machine.
Online Casino Jackpots
Jackpots in virtual gambling clubs spark users' special interest, as it can be won even without leaving home. The average size of maximum winnings on such platforms can reach up to $30,000. However, the frequency of such drawings depends on the scale of gambling platforms.
Online casinos draw money using slots. They offer the following types of jackpots:
Stand Alone Progressive. The maximum size is based on a single slot machine. A fixed percent of each bet goes to the prize pool. The total sum depends on the volume and number of bets.

In-House. The jackpot is formed by deductions from bets in the group of slots belonging to a single owner. Such sums are usually not quite big, but drawings are often.

Wide Area Progressive. The sum is formed by allocations from various gambling platforms featuring slots by a single software developer. Such winnings can amount to several millions of dollars. For example, the network of online casinos integrating Microgaming software has established the maximum prize fund of $5 million.
Jackpot changes can be monitored on counters shown on gaming slot displays.
Citizens from various countries won large money prizes. In 2013, a man from Finland received $24 million on the Mega Fortune slot in the PAF casino.
Jackpots in Live Casinos and Card Games
Not only can slot lovers become owners of huge winning in virtual and land-based gambling locations, but also live casino and card game fans.
Jackpots are drawn in video poker. The maximum amount most frequently does not exceed $50,000. At the same time, the game rules require major deposits. Despite this fact, gamblers extensively place high bets.
Oasis Poker allows to hit the jackpot when performing specified game conditions. Gamblers should put an extra bet primarily amounting to $1. Moreover, they should get royal flush.
Progressive blackjack allows to win the jackpot when placing an additional bet of $1 and getting four aces of the same suit.
Land-Based Casino Jackpots
Land-based establishments frequently have bigger jackpots than online ones. The big win can be obtained on slot machines. For instance, a waitress from Las Vegas who visited the casino with $30 won $35 million in 2000. Three years later, a 26-year boy got $39.7 million, passing the time in the gambling venue.
Land-based gambling clubs mainly draw the progressive jackpot. Its sum gradually grows. It is based on a single gambling slot or a slot machine united into a group of one or several venues.
A special feature of such jackpots is that participants can observe first-hand the increase in the major prize. The counter is ordinarily placed under the slot. It is huge and bright.
Player's Psychology: How to Attract Casino Clients Using Jackpots
The possibility for gaining a pretty sum heightens human interest in gambling and sense of enthusiasm. Therefore, casinos allure new visitors and retain regular ones using drawings of large sums. By the way, gambling platform owners do not promise that all participants will be able to hit the jackpot. They just offer people to try their luck and, perhaps, become a lucky one gaining money.
Experienced gamblers develop various techniques and strategies for improving winning odds. Making a shot at gambling, newcomers can rely on the Beginner's luck concept. What unites all of them is the fact that they place bets and keep playing, desiring to approach to the victory. Thus, casinos gradually boost their revenues.
Conclusion
The integration of the jackpot system into casino operations is profitable to both gambling organizers and participants. Gambling club owners attract new customers, advancing the reputation of their platforms and raising income, while gamblers curiously spend time and, in case of the streak of good luck, win huge funds.