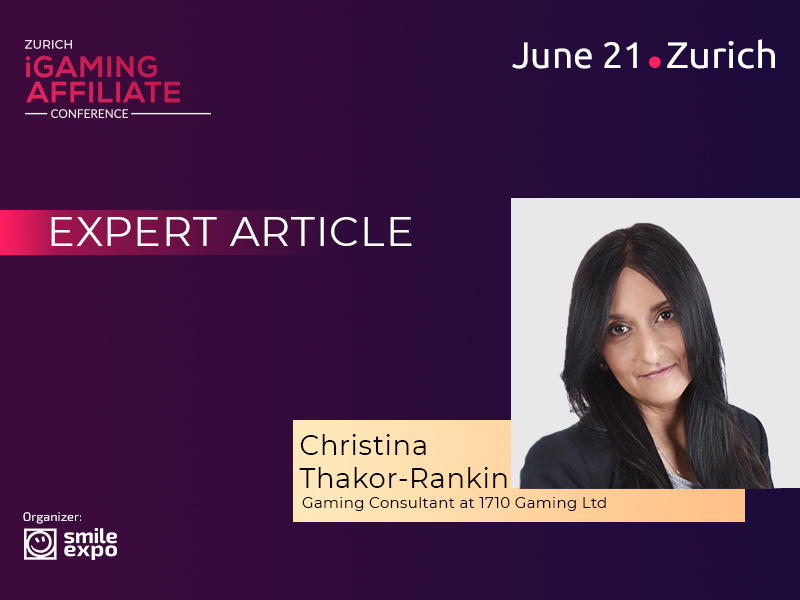 How to Retain Gambling Customers. Expert Opinion by Christina Thakor-Rankin
According to Juniper's forecasts, the total turnover of iGaming bets will reach $950 billion by 2021 (almost twice as many as in comparison with 2016). Discover the expert opinion of how casino owners can succeed in this profitable sector and retain their audience.
How to Retain Online Casino Clients Efficiently
With the growing gambling market attracting more and more new companies, the competition among online gambling resources becomes more severe. Both new casinos and experienced industry players desire to expand the audience reach as much as possible, as the amount of customers directly affects venue's profit. Therefore, the company's success depends on a seamlessly elaborated marketing strategy aimed not only at attracting new gamblers, but also at retaining the existing ones.
To obtain client loyalty, online casinos use special tools allowing to meet the demands of players. They include:
a wide gaming range and game quality;

bonus programs and special offers;

loyalty programs;

push notifications and email newsletters;

analytics and audience segmentation;

affiliate marketing.
Christina Thakor-Rankin, an expert with experience in betting and gambling industries and a Leading Gaming Advisor at 1710 Gaming Ltd., has shared her opinion of the advantages of customer retention tools.
Game Collection Expansion
Selecting slots for your own online casino, you should take into account special features of the region where the casino operates. Well, European players like fairy stories, while West Africa is interested in virtual sports. Obviously, a vast range of top games will be the advantage for any online casino.
"We now live in a world where customers are always looking for the next thing. Being aware of this means we can stay a step ahead by making sure that we keep developing what we do," Christina Thakor-Rankin comments on.
The majority of various offers attract more gamblers only if the casino provides high-quality products. Christina Thakor-Rankin believes that gambling resources should focus on quality primarily appreciated by most users. Modern players with high requirements for products won't return to the platform if its games are too simple or poorly designed.
The expert explains that the young generation, which takes technological progress for granted, is not interested any longer in a two-dimensional game. Thus, the whole world is applying new technical capabilities and is developing more games and offers, in particular based on virtual reality. Such an innovative product allows players to immerse themselves into the process and makes them return to the resource again and again.
Bonuses, Special Offers, and Loyalty Programs
Bonus and promotional offers help to retain customers who have already take an interest in the online casino. For example, one of the conventional methods for enhancing the loyalty is a registration bonus. Besides, a lot of gambling resources offer a certain amount of non-deposit slots.
There are some ways to allure clients and others to return. Seamless loyalty programs and bonuses for the time spent on the website motivate gamblers to visit the resource more frequently. One-off rewards and special offers also allow online casinos to win back those who have not entered the resource for a long time.
Christina Thakor-Rankin asserts that this tool should be used quite carefully. Specifically, a loyalty program should set up the clear-cut and easy-to-understand rules and have a pleasant reward (that players will necessarily receive at the promised time). The expert mentions that the best customer retention results can be achieved using exclusive offers.
"For example, one of the casinos I use sends a small box of chocolates or a voucher on St. Valentines' Day or my birthday. Another one rewards regular logins with random free cash, spins or gift drops," the expert says.
AI and Big Data in Gambling Resources
The application of such breakthrough technologies as artificial intelligence and big data analytics is efficient for client understanding and audience segmentation. Expert Christina Thakor-Rankin considers that the quality of services provided by gambling resources directly depends on how good they are aware of players' needs. AI is able to precisely collect and promptly process information.
"What will be key is how applications interface and interact with customers," Christina stresses.
She holds that machine learning and Big Data start taking the principles of customer segmentation and CRM. These technologies are helping to develop the trading sector, analyze the online advertising audience, and so on.
Newsletters and Notifications in Gambling
A common recipe of encouraging players to return to the online casino is distribution of push notifications. An offer to play your favorite game, place a bet, or a notification of promotions and bonuses made in time motivate clients to enter the website.
In Christina's view, email spam and black SEO are not quite efficient. That's because modern blockers always advance and do not permit such notifications.
"It is not important if it is white hat or black hat, and improved spam filters help to ensure that even legitimate emails end up being blocked," the expert explains.
She recommends online casino marketing specialists to count on the fact that common SEO is gradually replaced with voice assistants searching for information on the Internet. Similar changes can also open new affiliate marketing prospects.
Affiliate Marketing for Online Casinos
Christina Thakor-Rankin considers affiliate programs to be one of the most interesting tools for customer attraction and retention. However, their role is ambiguous because the Internet sector changes pretty fast. Voice assistants and VR are becoming trends. At the same time, the emergence of new trends and conditions do not de-emphasize partners in gambling. Reportedly, the previous customer operation model is out-of-date, thus it is important to find new methods.
Christina notes that one should prioritize Generation Z. It is significant to get Gen Z interested and then whet its appetite.
---
Christina Thakor-Rankin will speak at Zurich iGaming Affiliate Conference where she will be involved with other experts in the panel discussion: How to create and maintain an attractive online offer. The event will take place in Zurich on June 21.