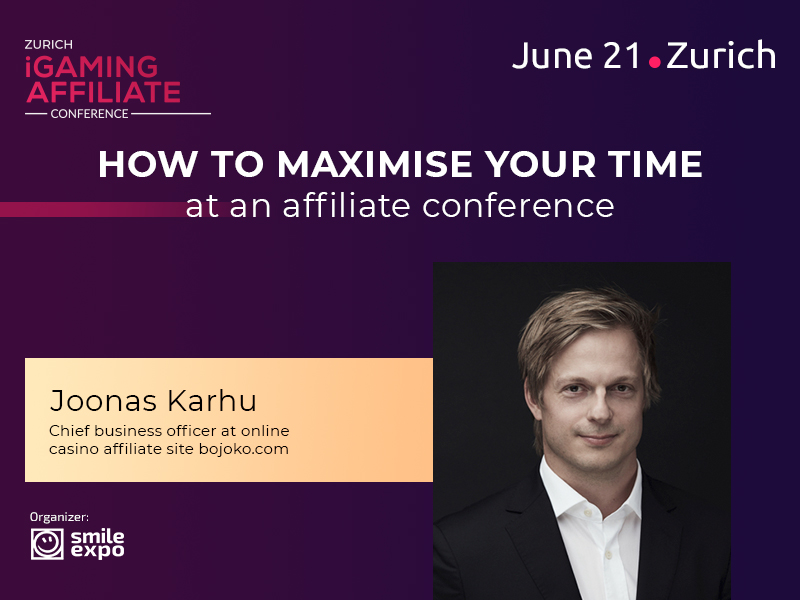 How to maximise your time at an affiliate conference
Joonas Karhu, chief business officer at online casino affiliate site bojoko.com offers advice on making the most of your time at a conference.
Conferences are a vital tool for any affiliate marketing business regardless of what sector you work in. From finance to healthcare via online gambling, conferences provide countless upsides.
From listening to talks and presentations from experts and thought leaders to meeting with account managers and networking, they are hugely valuable.
I have been attending conferences for more than five years now, and they have proved to be hugely influential in developing Bojoko, the online casino comparison site that I work for.
When attending an affiliate conference it is important to take steps to ensure you maximise your time spent there – some only run for a single day so there is plenty to pack in.
Having attended my fair share of conferences, these are the steps I take to make sure I don't waste any time while there and take away as much as I can.
Create a diary for your time at the conference:
The first thing I do when attending an affiliate conference is create a dedicate diary/schedule for my time at the event.
This enables me to properly manage my time and book in the talks I want to attend and the people I want to meet while also clearing space to eat and network.
Without a schedule in place, you can easily find yourself wandering the conference floor aimlessly or end up missing out on key discussions and panels.
You want to be able to take your diary with you, so I set up a dedicated calendar in Google or Apple or whatever calendar/diary app you prefer.
That way you can carry it around in your pocket and easily make any amendments or changes. You can also set alerts and reminders.
Read the agenda beforehand:
The conferences I attend often have packed schedules and agendas with talks, panels and presentations taking place throughout the day(s).
In most cases, it is impossible to attend every discussion so it is important to highlight those that will be most beneficial and clear time in your diary to attend them.
When deciding what talks to attend, think about which ones will answer any questions you may have or help overcome any challenges you may be facing.
I always take a notepad and pen to jot down any key learnings as after a long day of talks and meetings it can be easy to forget important details.
Pre-book meetings:
I like to use conferences to meet with the partners we work with. The online casino sector is global and our partners are based in countries all over the world.
Conferences are the one chance we get to meet with most of them in one place, so I always set aside a big chunk of time to meet face to face with as many as possible.
I start to add meetings to my calendar several months out because people become very busy very quickly and you don't want to find yourself in the situation where everyone is booked up.
It can be tough to meet with everyone if the conference you are attending only lasts a day, but if you keep meetings to 30 minutes you can fit plenty in.
Allow time for networking:
Most affiliate conferences will include time for networking whether over breakfast, lunch or beers and cocktails at the end of the day.
These sessions are a great chance to meet with fellow affiliates – as well as partners and suppliers – and chat shop in a more casual setting.
The networking sessions I have attended have proved very useful at connecting with new partners and service providers, as well as with other affiliates.
After parties can also be good fun and a great opportunity to unwind after as busy day on the conference floor. Even if you are feeling a little jaded after a long day, they are well worth attending.
Speak if you are offered the chance:
If you are an established affiliate business or a start-up that has done something different and found success, you may be asked to speak at a conference.
This is a big honour and an opportunity that should be accepted. Sharing your knowledge and insight with others is great for the wider industry and for improving standards and driving growth.
You don't have to give away your trade secrets, of course, just contribute to discussions in a meaningful and interesting way.
I have been attending conferences for many years now, and by following the above steps have come away from each one having maximised my time at the event.
This, in turn, has helped in my role as chief business offer at Bojoko and also with my own knowledge and skill development.