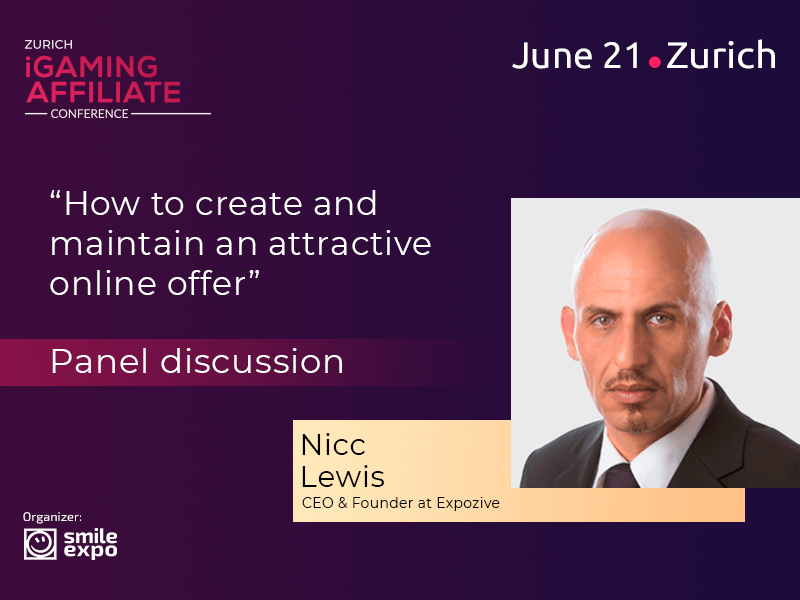 Head of Expozive Nicc Lewis to Discuss the Online Offer Peculiarities
What do you need to know to create an attractive gambling offer? At Zurich iGaming Affiliate Conference, this topic will be covered at the panel discussion. Nicc Lewis, head of Expozive, will share his opinion on the matter.
Discussion topic: "How to create and support an attractive online offer".
Nicc Lewis is an expert in online advertising and business solutions for gaming with 17 years of experience, focusing on marketing in the digital B2B and B2C world.
The speaker has been a VP of business solutions for gaming at Spiral Solutions, a company offering online marketing services. Nicc has also been holding managing positions at Webpals marketing company and Leverate – provider of solutions for brokers.
Currently the specialist is heading his own agency – Expozive, involved in online games and affiliate marketing segments.
Zurich iGaming Affiliate Conference is an event that will unite the representatives of online and land based casinos from various countries. Guests of the event will learn about the legal issues of gambling business and meet new partners. Event will take place on June 21.
---