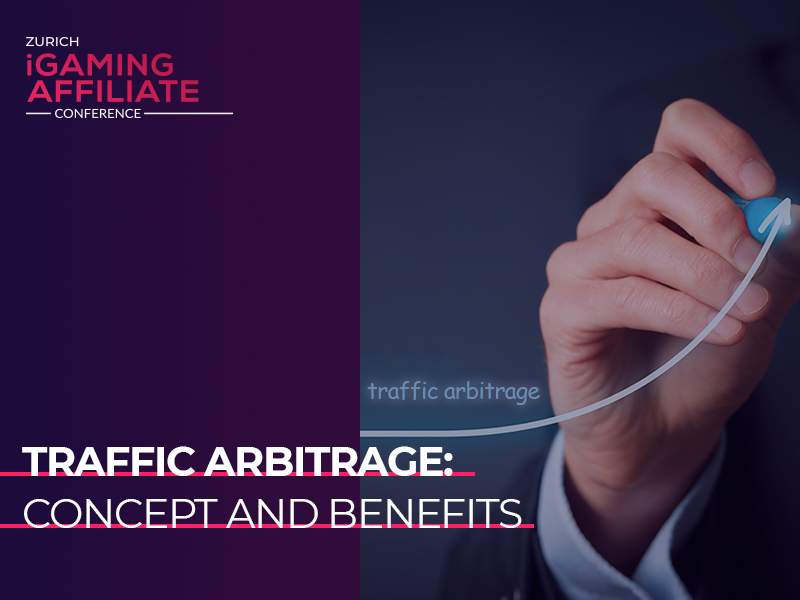 Arbitrage in Brief: Terms and Basic Concepts for Newcomers
Entering "Ways to make money online", the first links will lead you to all articles about arbitrage. What is it? How much does it allow to earn? How to implement this idea? Let's figure out it step by step.
Traffic Arbitrage Concept
Imagine that you buy traffic from one person and sell it to another twice as expensive. It means traffic arbitrage, while you become an arbitrage specialist.
Let's examine a simple example of this concept. Suppose a small online retailer that extremely needs to sell a bulk of glass tumblers. To make people buy them, one should create a comprehensive advertising department to promote goods on the Internet. It is too complicated for the online retailer. It is far easier to address an arbitrage expert engaged in traffic acquisition and say, "I will give you 100 RUB for each sale of one tumbler from your traffic."
Now, tumbler sales are the arbitrage specialist's problem. He looks for resources where glass tumblers can be useful. After finding, he buys traffic here, for instance, 100 click-through for 50 RUB. Afterwards, the arbitrage expert creates a promotion banner and places it on that website. As the result, 20 out of 100 users clicking on the banner buy a tumbler. 50 RUB is spent, 2000 RUB is received.
Key Arbitrage Terms
To better navigate arbitrage terms, look at the brief guide below.
Advertiser is that very online retailer desiring to sell glasses. In other words, a company, which a ready to pay for customer attraction. The one that needs promotion.

Arbitrage specialist (webmaster) is an individual who earns on client attraction. The one who can promote.

Traffic is people interested (or non-interested) in the advertised product.

Lead is an action that should be taken by a client so that the arbitrage expert obtains the reward. For instance, to buy a tumbler.

Offer is a promotional offer aimed at intriguing potential clients.

Reach is the number of people who have seen the ad.

Click is customer's click-through to the advertiser's necessary website.

Conversion is a difference between those who have just looked at the ad and those who have performed a certain action after entering (for instance, buying a glass).

Affiliate network is, in fact, a website bringing together arbitrage specialists and advertisers. It charges a certain percent of advertising.

CPA (Cost per Action) is a type of cooperation where arbitrage experts receive a reward only if attracted users conduct a certain action, for example, buy a tumbler.

CPC (Cost per Click) is a kind of cooperation where arbitrage managers get a reward if users click on their ad (offer).
How to Start Arbitraging
The above-described example with glasses is a perfect option for arbitrage specialists. Spending almost nothing, they generate 40 times more profit. However, sometimes expenditures can exceed income. Therefore, it is significant to realize what and how to do.
Affiliate Program Selection
What you should choose first is an affiliate network. They are quite different, offering various cooperation options. You should read their rules threefold and define the most profitable one.
Offer Selection
Afterwards, you should choose in the affiliate network catalog a product or a service you are going to promote. Goods should be in-demand, and you have to know how to introduce them properly. The popularity can be checked via the following well-known services: Google Trends and Wordstat by Yandex. The amount of search queries usually clearly shows the popularity of goods or services.
Goal Setting
Product selection is half the battle. It is important to understand what advertisers need from you. E.g., if they aim to obtain 3000 purchases and pay only 100 RUB, it's hardly worth undertaking the task. The reward should be reasonable.
Where to Find Traffic
Afterwards, you should select a website for ad placement. If you promote glasses, you will unlikely get positive results on the plastic window website. If your traffic source is the bar attendant's portal, you will be able to succeed.
Where to Direct Traffic
A question 'Where to direct traffic?' can be easily transformed into 'Where to redirect users from my advertising'. It's up to you to decide. You can heighten the interest of potential clients by creating a pre-landing page thoroughly explaining why they cannot do without promoted goods or services. You can also direct users to the glass tumbler page.
How to Generate Traffic
This issue combines two crucial sections: traffic quality and ad quality. If you do not follow the CPC pattern, what matters to you is a kind of users clicking on your advertising offer. If you promote garden spades and only IT specialists follow your advertising link, such a traffic can be considered poor-quality.
The second aspect is the offer quality. Advertising should meet users' expectations. It can be spectacular images, catchy texts, viral videos, or funny GIFs. Unconventional and intriguing ads encourage a huge amount of click-through.
How Much One Can Earn on Arbitrage
The Internet is full of case studies illustrating how skillful webmasters receive 800% of profit in two months: it is enough just to put 'arbitrage case studies' into the search bar. Some specialists earn $50,000 on adult traffic aimed at gambling portals. Others redirect tons of Facebook traffic to the landing page dedicated to cabbage benefits and get $20,000. Certain individuals increase the number of their website users 14 times.
Indeed, it is possible, but it is primarily not a common phenomenon but the outcome of precisely designed season campaigns. Two-fold ROI is the pretty good results for an average arbitrage manager. You should learn from your own mistakes, gain experience, and listen to tips from experienced arbitrage experts.
Therefore, the answer to the question 'How much can one earn on arbitrage?' is simple: everything depends on your skills and funds.
---
Register to Zurich iGaming Affiliate Conference and discover more about arbitrage.