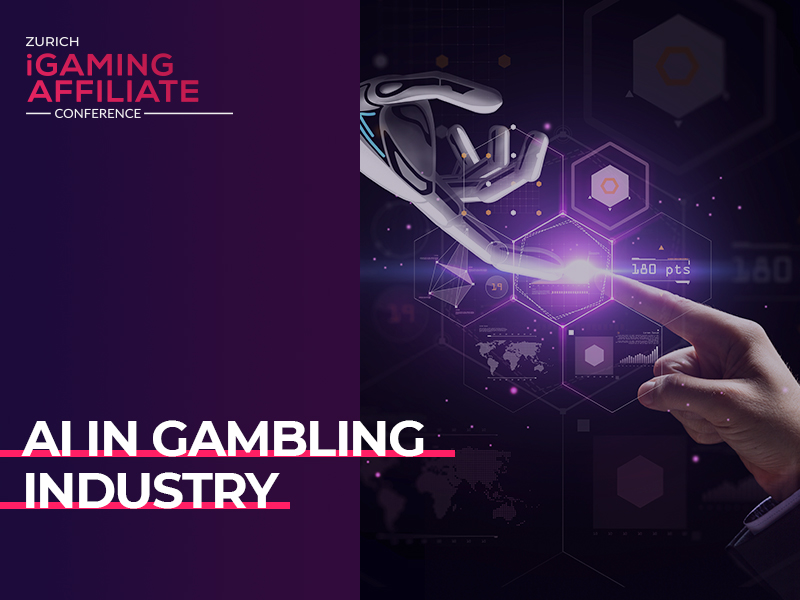 AI in Gambling Industry: Customer Communications, Poker Bots, and Fight Against Problem Gambling
iGaming is a high-tech field developing in various countries. In 2019, Switzerland adopted the law stating that only local operators could obtain an online casino license. To remain competitive and keep up with the times, gambling platforms integrate new solutions. Artificial intelligence systems are the most advanced among them. AI allows casinos to improve service quality, attract more customers, and increase revenues. The article reveals in detail the application of AI technologies in the gambling industry.
AI in gambling: how did it all begin?
One of the world's first self-learning programs was developed by Arthur Samuel, an engineer at IBM, in the 50s of the past century. This system was designed for checkers on the IBM 701 computer. It was trained using simple guides describing various parties with bad and good outcomes. In 1962, Robert Nealey – Connecticut Checkers champion – lost to this computer.
As to the gambling sector, the first AI-based poker programs appeared in the last century. In 1984, Mike Caro – Founder of the world's first permanent poker school – introduced a prototype of Оrac software. It was able to play poker at the human level. Besides, Mr. Caro is the author of baccarat simulator and other solutions.
Since then, artificial intelligence technologies have substantially evolved. Currently, the application of AI products provides businesses with the competitive advantage, allowing to efficiently interact with customers and enhance income.
How is AI applied in gambling?
Realizing all benefits of AI technologies, gambling market players integrate intelligent systems into their operations in order to offer consumers better services and generate more revenues. Let's examine how the gambling area uses artificial intelligence.
Chatbots
Bots serve as intermediaries between casinos and their clients. They answer different questions at any time of day or night. Unlike people, they are able to communicate with the variety of users in several languages. They are also responsible for automatic newsletters of advertising or informational materials. Due to the adoption of such software, gambling platforms save staff expenses, while players promptly solve outstanding matters.
PC-based assistants are utilized in Теlegram casino. Using such bots, gamblers top up a deposit, place bets, and perform other actions right on messengers. To control a game, users either enter text commands or press on available icons.
Moreover, there are poker bots. They are virtual opponents of gamblers. For instance, in 2017, one launched Libratus bot that outplayed poker professionals. The special feature of this software is that it has elaborated its own gaming style, detected weaknesses of rivals, and even bluffed.
AI to retain customers
BtoBet has developed an artificial intelligence platform allowing online casinos to provide their consumers with customized services.
The system monitors and analyzes gamblers' behavior on the Internet. As the result, it automatically offers games in accordance with their interests.
This software allows the service to predict users' demands and take measures for retaining them on its portal.
AI to combat ludomania
Today, the iGaming industry pays great attention to the fight against gambling addiction. Therefore, BetBuddy has designed an AI platform called PowerCrunch.
The program collects player data, analyzes their behavior and social test results. Collected information is processed, and then the system determines whether people will be able to suffer from problem gambling or not. The diagnostics accuracy is 87%.
Identifying users subjected to ludomania, casinos can offer them to set up the betting limit or temporarily block their accounts.
AI to struggle against fraud
Gambling venues lose large sums of money because of swindlers. For example, Richard Marcus conned the online casino out of almost $5 million. Thus, they had to take steps to prevent similar situations. Artificial intelligence assists them in this deal. Now, AI technologies allow gambling platforms to detect immediately any suspicious client activity.
Sirplay, a betting software developer, uses algorithms to recognize potential swindlers. Due to this solution, operators can monitor gamblers' results. If the system finds out that players do not face negative performance within a prolonged period, it blocks their accounts.
AI prospects in gambling
According to Frost & Sullivan, the volume of the AI global market will increase up to $52.5 billion by 2022 (as a comparison, it is twice more than in 2017). This fact will positively affect economic figures. PwC estimates that the global GDP will grow by $15.7 trillion because of the AI evolution.
iGaming companies like nobody else realize the importance of adopting innovative technologies. To obtain traffic and earn well, gambling venues integrate modern software into online platforms. Eventually, the application of diversified AI solutions will allow casinos and betting platforms to engage more clients, generate customized offers, and ensure the responsible approach to gambling.
Conclusion
Artificial intelligence technologies are an efficient tool for business performance improvement. AI solutions will be beneficial to both gambling market insiders and their customers. AI helps platforms to allure new users and accumulate funds and gamblers to enjoy services of higher quality.
---
Discover more about online gambling operations at Zurich iGaming Affiliate Conference.