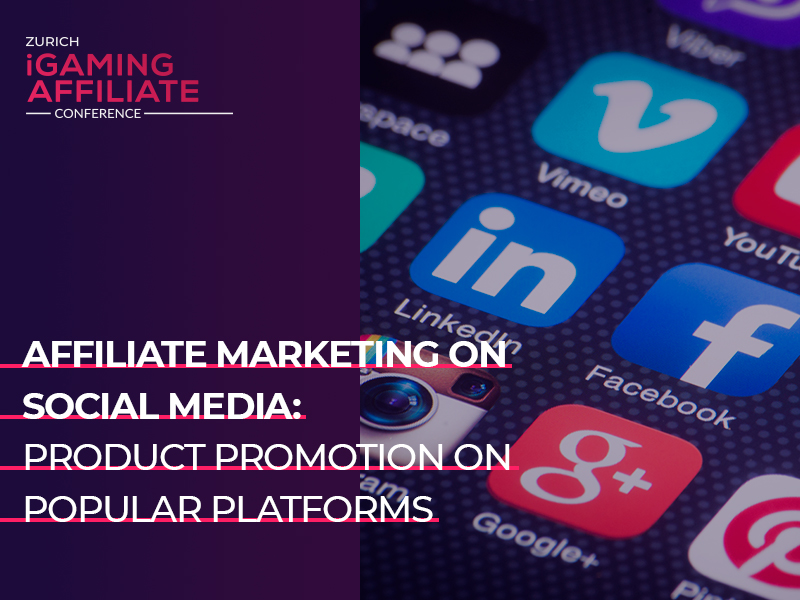 Affiliate marketing on social media: product promotion on popular platforms
One should not necessarily have their own platform to promote certain goods and services as well as to promote advertising banners and ads. Currently, affiliate marketing can be implemented on social media.
Let's figure out what social media to choose for ad placement, how to promote goods, and what special features each social network can offer to affiliates.
Why should one use social media marketing?
Experienced marketing specialists recommend to promote goods and services on social networks, as such platforms allow to place any kind of content: texts, photos, illustrations, links, videos, and podcasts. Webmasters do not have to develop their own websites: they should just select an existing platform for free.
Moreover, social media offer an established wide audience available for targeting. Everything is quite simple: SNS users voluntarily share their personal information, including gender, age, education, geo location, and interests. Therefore, you can easily find your own target audience.
Social networks also feature off-the-shelf built-in ad and promotion engines. You should just define a budget, choose an appropriate kind of social media, and select a business model.
Special features of social media marketing
Instagram
Instagram implies advertising via photos and brief videos. Instagram Stories is now one of its most popular promotion tools. Instagram stories are convenient to watch. They combine several options: videos can be supplemented by filters, tags, and texts.
Besides, goods can be promoted using Instagram posts: bloggers create a post with product image and description as well as publish a referral link to the website. To attract the greater amount of traffic, one should not necessarily have a lot of subscribers. Mass Liking and Mass Following can be useful in this case.
The selection of advertising offer on Instagram depends on a profile page and an audience. The most profitable offers include discounts and so-called wow goods, the hottest new trends.
Facebook
Facebook is a social network that provides a large number of marketing possibilities. Firstly, you can promote goods using newsfeed advertising by posting affiliate links on you page.
Secondly, another efficient method is ads in specialized groups related to promoted products. The third way is to publish honest feedback about goods or services. Tips can be given as text messages with photos or small videos.
At the same time, it is easy to interact with Facebook users. You can find business partners there, e.g. bloggers, to promote goods. You can also meet potential customers among users of various groups and inform them of your product.
Furthermore, Facebook offers built-in advertising tools. The most popular and efficient are:
side panel banners;
ads leading to the direct registration for purchases;
targeting via special analytical tools.
YouTube
Nowadays, YouTube allows to monetize your own channel and obtain profit from your videos using advertising.
There are two types of YouTube affiliate programs: embedded and third-party ones. YouTube offers the embedded affiliate program, but it can be appropriate only to those who have collected at least 1000 subscribers and 4000 hours of views over the past year.
Newcomers join third-party affiliate programs that are less demanding of channel authors. Working with the program, you can select one or several kinds of product promotion. Reviewing, unpacking, and testing videos are popular as of today. It is crucial to express fair opinions and add real feedback and impressions in order to obtain more subscribers and keep theirconfidence.
Twitter
Twitter operations are considered to be the most complicated, as the content format of 280 symbols limits marketing opportunities. However, the platform has its own advantages that should be taken into account during affiliate marketing:
advancement of awareness and increase in digital presence;
attraction of the target audience that will turn into regular clients;
feedback: Twitter is considered a platform with users' active response to events.
Nevertheless, implement the Twitter marketing potential, one should use tags. Besides, marketing specialists stress that Twitter is a correct choice to expand business relations, because users receive notifications of activity, for example, subscription to their page.
LinkedIn
LinkedIn is the largest professional social network extensively used by companies and jobseekers.
To you can arrange affiliate marketing on LinkedIn if you choose a proper approach. Experienced platform users recommend to initially create a wide list of contacts and publish useful content and then start promoting goods. It is quite important to avoid obtrusive advertising, preparing posts with meaningful articles about certain products or brands. The article should describe product advantages and benefits.
LinkedIn can help to find business contacts for promoting goods. For instance, you can contact bloggers who are ready to boost products.
By the way, LinkedIn users appreciate tutorial videos, official documents, and electronic books. Placement of above-mentioned content will allow to attract potential customers.
---
Experienced affiliates will discuss affiliate marketing trends at Zurich iGaming Affiliate Conference.