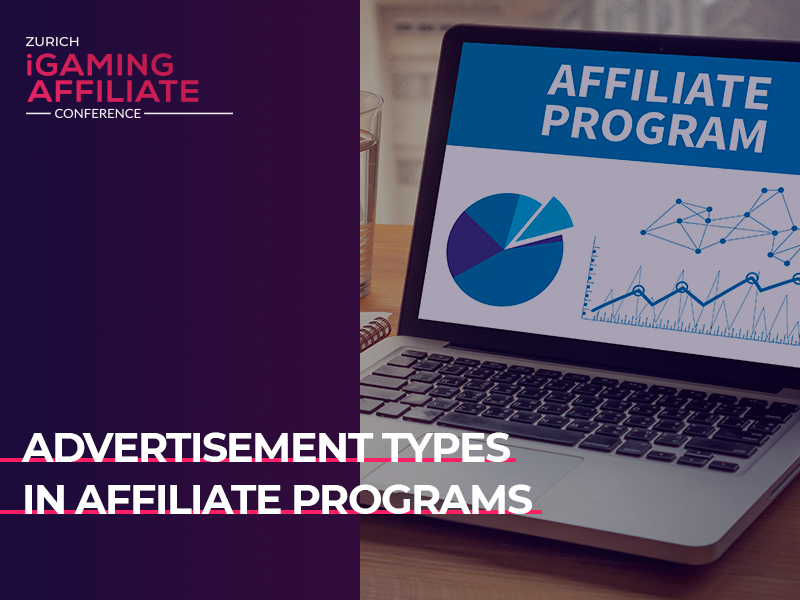 Advertising tools of affiliate programs: main ad types
Today a great variety of advertising tools are available for promotion of brands and companies. Different affiliate programs use different types of ads and banner ads, and thanks to the big choice of tools, affiliates can select the most appropriate and convenient types.
Let us learn what ad types exist, how to create a marketing tool, and what functions each type fulfils.
Ad types
Ads are tools used for marketing and promotion purposes in affiliate programs, among other things, in order to communicate information about goods and services in a productive manner.
Specialists in affiliate marketing usually use several ad types at once to attract more users and achieve the best results.
Links
Hypertext links are placed on affiliate websites and bring users to the website of the advertiser. Usually hyperlinks are placed on pages that contain content related to advertised goods. Such content may include reviews, practical guides and recommendations.
Five main types of affiliate links that bring customers to:
the home page of the seller;

popular categories of goods;

top-selling and the most popular products;

pages that contain special offers;

certain products or services.
Banners
Banners are graphic ads that offer information about goods or services and are placed on affiliate websites. As a rule, banners do not attract much traffic, but instead they efficiently increase brand recognition and inform users about offerings.
When using this tool, it is important for banners to:
meet requirements and sizes of a banner ad;

be easy to view on mobile devices;

maintain their productivity;

be updated in accordance with the changes on the website of the advertiser.
Data feed
Data feed file contains detailed information about the product specified using attributes for the buyers to be able to find wanted products quickly.
Necessary attributes:
product identifier and title;

price;

category;

description;

availability;

weight and size;

universal product codes;

keywords.
Affiliate programs should provide affiliates with detailed information about goods and services for the affiliates to advertise products with the most of efficiency.
Widgets
Widgets are small programs provided by the advertiser and embedded in the websites of affiliates. Using interactive and dynamic widgets, users obtain information about advertised products, find goods in categories, and find out about lucrative offers.
The advantage of widgets is that they are updated automatically without the interference of the affiliate and resemble native ads allowing for productive customer acquisition.
Videos
Videos are an efficient ad tool for smartphone users, as watching videos is more convenient than reading texts.
Different types of video ads are available such as presentations of goods and services, demonstration of their use, fair reviews, and educational videos.
Flash ads
Flash ads are often called banners due to many similarities, but flash banners have certain distinctive features. Flash ads are not statical – they contain animation, sound, and video, which engages potential buyers and gets them interested in the product.
Besides, flash ads differ from traditional banners by the fact that they contain more text and graphics. Flash banners also usually contain from five to ten different images that interchange. In such a way, flash ads promote several products at once, inform about beneficial offerings, and contain messages that inspire to make a purchase.
Extended links
Extended links are ads embedded in websites of affiliates. They bring users to the website of the seller, but at the same time contain useful information.
For example, extended links often help to advertise journeys: users of the affiliate website check the availability and ticket prices from the airline not leaving the affiliate site. If visitors find a relevant offer, they easily go to the website of the airline, where they can get additional information and make a purchase.
The advantage of extended links is that the information they contain is updated automatically and they successfully attract new customers, helping them to obtain useful information quickly.
---
Specialists will discuss marketing tools of affiliate programs at Zurich Prague iGaming Affiliate Conference.